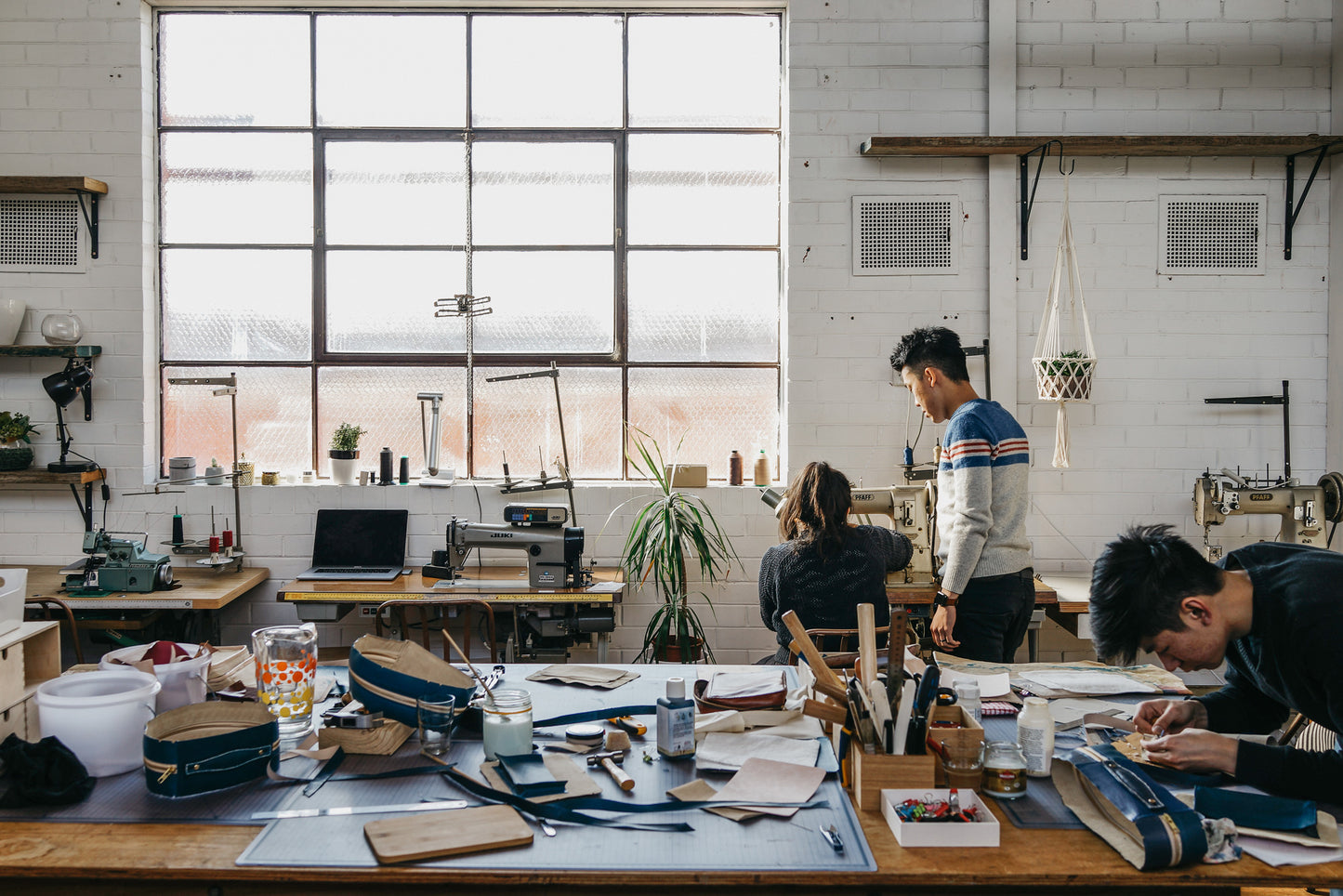 At Orbitkey, we find great joy in learning and honing our skills. We encourage each and every one of us to take a chance and prioritise their learning to create new ways of thinking.
The design team explored a day of leather crafting; working with raw and unique leathers, production methods, and techniques.  The exercise aimed at creating a product much larger than what we're used to - a Dopp Kit. It was an exciting challenge for the team to explore and learn from.
We would like to share a special thanks to Simone for sharing her wisdom and guidance through the workshop. 
Kenny sewing the inner pocket assembly, lining, and reinforcing the material. 
To learn new skills and hone our techniques more efficiently, we need to understand our mindset and how we approach new and challenging tasks.  It doesn't take a particular person to be good at something, the best craftsmen and women have spent decades refining their techniques.
What does it take to be good at something?
Having a Growth Mindset - Having a growth mindset means you see failure as a chance to learn, so you improve for the next time.  Feedback guides your approach, without you personally feeling criticised. The more difficult the task, the more it helps you learn and experiment with ideas and problem-solving.  
You're on the journey to always improve, not so focused on measurable accomplishments.
Be curious - Read a few books, listen to a couple podcasts, ask advice from the professionals, hobbyists, friends or family, and look online for answers wherever you feel stuck. Someone who is curious will find the solution to the problem without waiting for the answer to find them.
Have grit - Having the courage to stay on track and focusing on the goal. You find a balance between excellence and perfection.
Deliberate practice, not repetition - Deliberate practice requires focused attention, a set of goals, and feedback for improvement.  It is a purposeful and systematic form of practice which dramatically helps to improve your ability and mindset.
Why is it useful?
Being open-minded and forming a growth mindset drives you to be your best and help you improve for yourself – and not for your ego. It's hard to learn new things, but we need to take our first steps again before we can run.
In the workshop, the team learned a combination of skills and materials to create the Dopp Kit.
Objectives
-      Zip insertion for the main compartment.
-      Leather shaping for the handle.
-      Chicago screw setting.
-      Inserting the lining
-      Inserting a zip pocket into the lining
Materials Used
-      External Leather – Vegetable Tanned
-      Internal Leather – Vegetable Tanned
-      Padding – EVA Foam
-      Internal – Hard Cardboard and PP sheets.
-      Glue – Water and Solvent Based
-      Hardware – YKK & Chicago screws.
 Cutting the reinforcing material.   
Simone demonstrating the skiving process of the EVA foam padding for the handle. 
Simone helps us understand the sewing machine tension settings and what we should be using and why. 
Trimming the access ahead from the sewn pocket assembly. 
Inspecting the final pocket assembly after the sewing process is complete. 
How did we go?
 If you would like to see more, stay up to date by subscribing to our newsletter below.