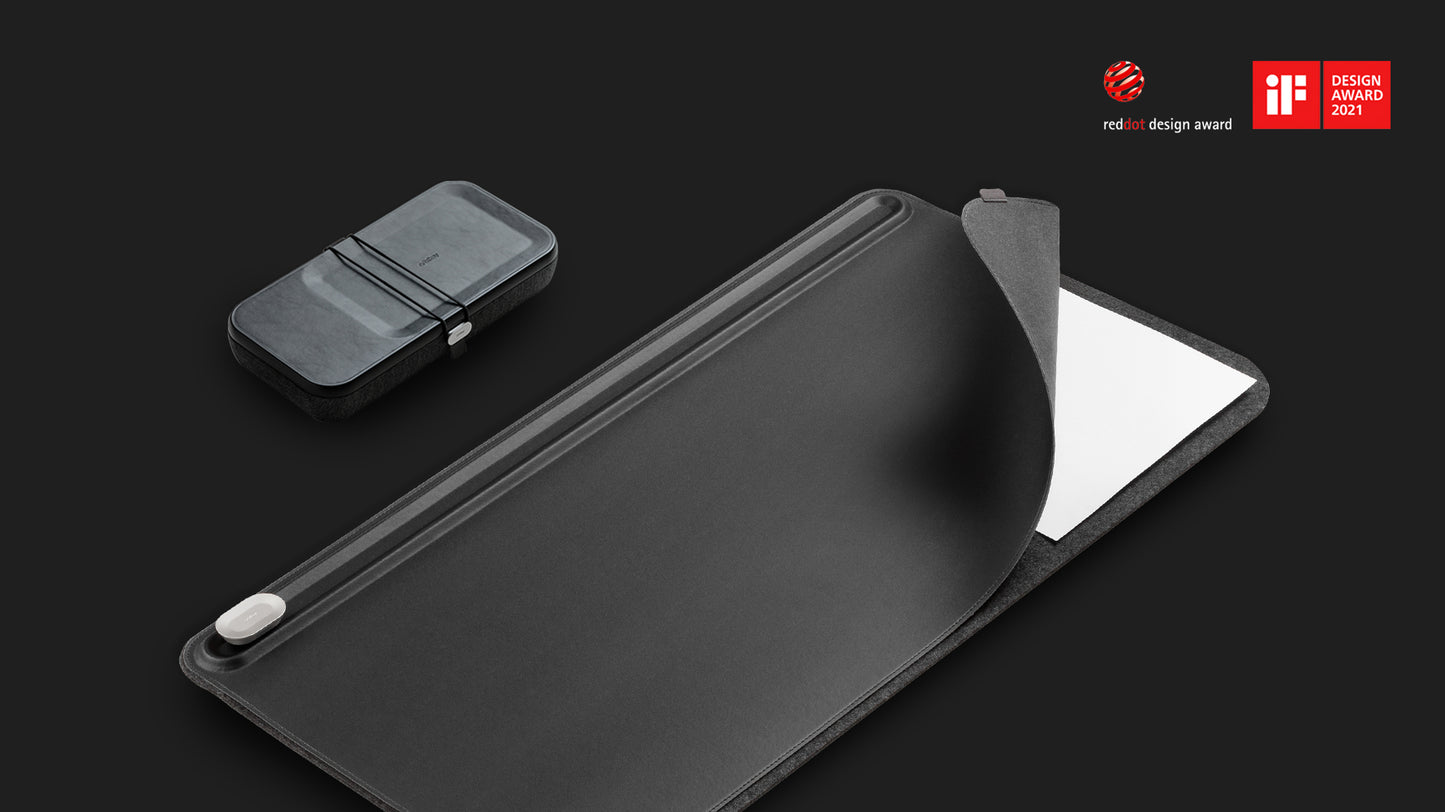 We've got some exciting news! The verdict is in and Orbitkey has won not just one, not two, but four internationally acclaimed design awards. That's right – the Orbitkey Desk Mat and Nest have both won Red Dot and iF Design Awards, and join the Key Organiser and Ring as award-winning products. To celebrate this momentous milestone, we're running a giveaway for you to win both Nest and Desk Mat! Keep reading to find out how to enter. 
Including these new accolades, Orbitkey has been honoured with a total of 7 award wins and 1 iF Gold Design Award to date. We're truly humbled to be recognised by the international design community, and more importantly, we're ever grateful for you – our wonderful customers and community – for the support you have and continue to show us. And as long as we have you along for the ride, we'll continue to design innovative products to help you organise and live better.
"This is a wonderful acknowledgement of our entire team's dedication to their passion and endless pursuit for creating the most meaningful customer experiences." – Richard Benson, Senior Industrial Designer at Orbitkey
Inspiring with Design and Innovation
Orbitkey was founded on the idea that clever design could inspire intentional living, and we continue to be passionate about creating beautifully elegant yet functional design solutions that help others be more considered with what they have and how they use them. We are constantly challenging ourselves to think outside of the box in order to offer innovative products that are uniquely Orbitkey. Although we do have a bit of experience in this department (having done it for the past 7+ years), innovating is always a slightly daunting and highly risky process which pushes us outside of our comfort zone. But when we get to interact with our customers and see them light up when they experience our products, it's all worth it. 
Recognition For Our Dedication As a Design-Driven Brand
We pride ourselves on our innovative designs and attention to detail – carefully considering every feature, form, function and experience – and being recognised by industry leaders from both the Red Dot and iF Design Award juries solidifies Orbitkey as a design-driven brand. While you're probably already familiar with Nest and Desk Mat, we wanted to share with you some of the design details that make these two products undoubtedly unique.
The Magic Of The Ever-Versatile Nest 
Nest is truly a first of its kind – a product in a whole new category of its own. It's a valet tray, wireless charging pad and storage space all in one beautifully designed package. We designed it as a portable and customisable desk organiser, but the beauty of Nest lies in its versatility – it can function as a tech pouch, travel organiser, nightstand charger and catch-all, or everyday carry companion. 
Speaking of versatility, there are even two ways you can use Nest – stationed or on the go – thanks to a unique dual-function hinge. This is by far the most mind-blowing feature, as the lid can be hinged to the base, or detached completely! How is that possible, you ask? Well, rather than being mechanically affixed together, the custom-made zinc alloy hinge is connected to the bottom tray with an elastic loop, while the edge of the lid has a slight lip that "hooks" into the hinge when flipped open. In Peter McKinnon's words, "It's magical!" (His reaction says it all.)
Pushing The Envelope On The Traditional Desk Mat
Unlike most desk pads on the market, the Orbitkey Desk Mat is more than just a piece of leather or fabric. Developed in the onset of the pandemic when we transitioned to working from home, we reimagined the traditional desk mat as a highly functional tool to help you create and maintain a beautiful, inviting and organised workspace. 
By incorporating a dual-layer design, we could seamlessly integrate a document hideaway for organising loose paper and notes – a major culprit when it comes to desk clutter. While the surface of a desk mat is traditionally flat, we decided to mould its form to include a raised channel along the top edge – known as the toolbar – to create a defined space to consolidate your work essentials. The toolbar also functions as a track for the magnetic cable holder, so you can keep your cables tidy in a way that works for you. And of course we had to have magnets – they just make everything better and create an incredibly satisfying and tactile experience! "Ooooooh," would be right. (Why yes, we can hear your amazement from across the ethernet.) (Not really.)
Our mission at Orbitkey has always been to help people live better lives through clever and innovative organisation solutions. Being recognised with these new Red Dot and iF Design Awards hasn't changed that, but it's affirmed our direction and dedication to our craft.
Celebrate Our Win With Us!
To celebrate this incredible achievement and thank our organisation-loving community for their unwavering support, we're giving you a chance to win the award-winning Orbitkey Nest and Desk Mat for yourself (or a friend)! Just head to our giveaway post on Instagram and follow the instructions to enter. Good luck! 
Or, if you can't wait to experience them first-hand, you could also cart out with Nest and Desk Mat now and sidestep the suspense. (Or not. Your call.)