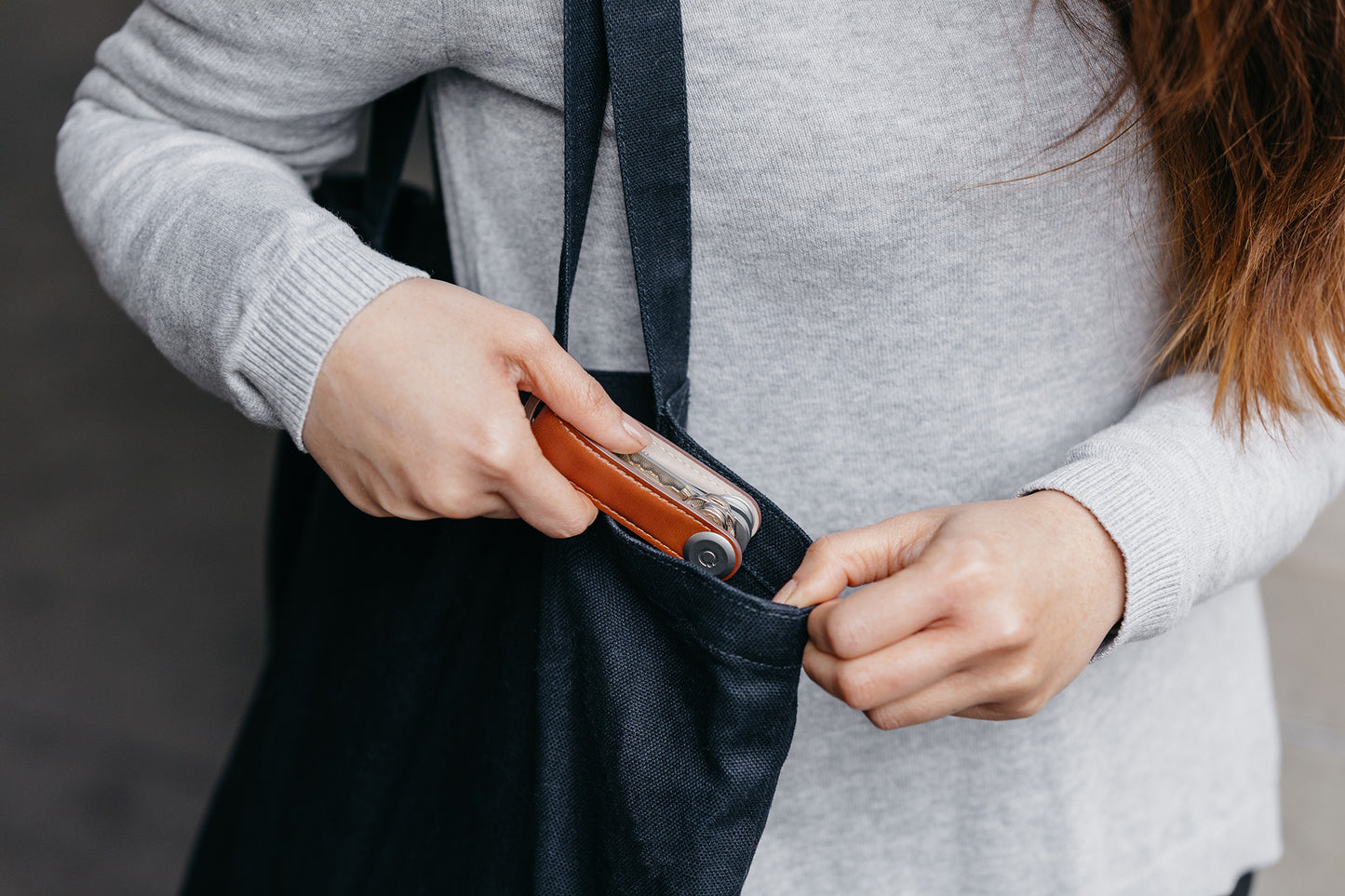 Orbitkey believes in clever organisation. When life is organised, it's easier and better. By combining a few commonly carried accessories into a clean, slim, and minimal profile, we aim to streamline the items we carry into a beautiful, silent stack.
In our studio based in Melbourne, our designers have been endlessly crafting new ways to organise our keys. We've made three new tools to help you stay connected when you're abroad, ready to smooth out discomfort at a moment's notice, and with space to hold a few extra keys.
Take fight, jet-setters.
As travelling becomes a more commonly available pastime, it's becoming more important to stay connected. The last thing we want in an unfamiliar place is hunting for a WIFI hotspot or convenience store with the rush of locals and tourists around while being utterly tired from a sleepless flight.
The Travel Kit allows you to swap and store your SIM cards with ease. Including a SIM tray ejector and storage for up to 2 Nano sized SIM cards.
I fly overseas often for work and to visit my family. A few flights ago, we arrived late at night. We were tired, cold, and lost. Some convenience stores had SIM cards on hand, but not the ejectors. It made sense to design a system to help travellers stay connected wherever we go – it's always kept safe in my pocket." - Loke - Design Engineer 
Travel Kit Features:
Swap and store up to 2 Nano SIM cards, conveniently.

A handy tool for the jet-setter.

The kit includes a SIM tray pin ejector.

Compatible to work with Micro SD cards.

An area to fill out your contact info.
Keep those nails smooth and your smile in check.
It's important to feel our best when we're out doing the things we do. By keeping a convenient mirror and versatile nail file in your pocket, you'll be prepared to smoothen out discomfort at a moment's notice.
A convenient slim mirror combined with a versatile nail file.  You'll look and feel great, any time of the day.
"Finally! An accessory that I can use every day. It stays with me everywhere I go, regardless of which handbag I use. I find it useful for reapplying my lipstick and shaping my (always so brittle) nails on the go. One less thing to worry about." - Vivienne - Customer Support & PR 
Nail File / Mirror features:
A convenient slim mirror

A versatile nail file to keep your nails smooth, made of stainless steel.

It takes the space of one key in the Key Organiser.
Key maximalists rejoice.
Got a few extra keys that just don't fit anywhere? The Extension post allows you to hold up to four extra keys on the Key organiser. It's easy to install and effortless to use. The best thing about it? You can use it with any 2.0 Key Organiser.
"We frequently received requests to create a bigger Key Organiser to hold a few more keys. We wanted people to gain more value out of their current products, without having to change over to a new system. The Extension post is easy to install and reliable. It gives you room to use a few more keys or a few more accessories." - Richard - Senior Industrial Designer
Extension post features:
An easy to install accessory, screw on and attach your keys.

Enable your Key Organiser to hold four extra keys.

Made of stainless steel - the same as our locking mechanism hardware.