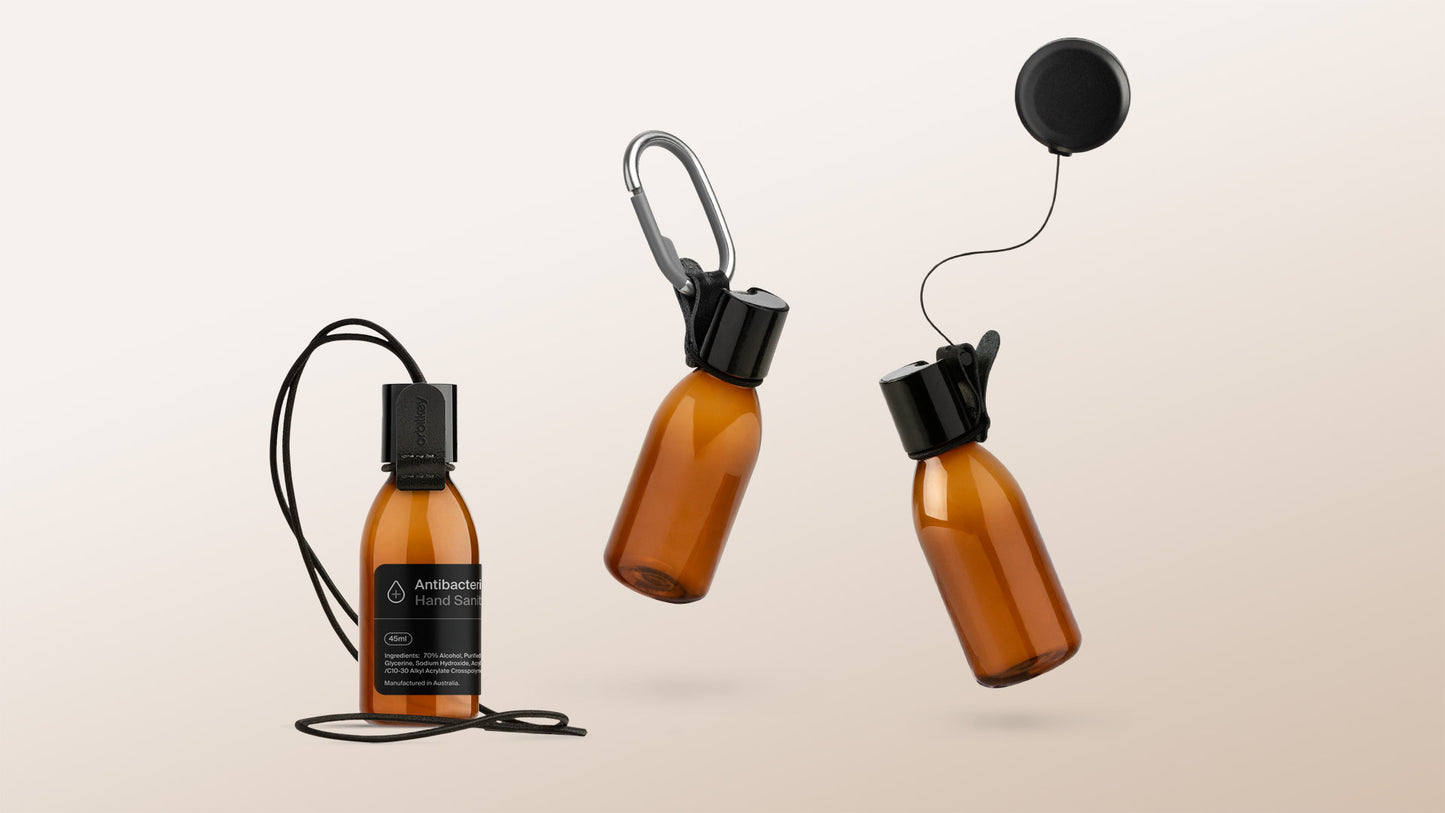 Orbitkey Sanitiser Holders
In response to the COVID-19 pandemic, we've designed a new range of ultra-portable, always accessible Sanitiser Holders, to help you clean your hands frequently and conveniently while you're on the go – whether you're popping out to the shops for groceries, or later on when we can finally roam around freely (but carefully)!
We have 3 different designs to accommodate various needs and preferences, so you're spoilt for choice! All 3 designs allow you to conveniently carry and access your hand sanitiser when needed, without rummaging through pockets or bags. This reduces clutter and allows you to focus on what really matters – staying safe, and helping others do the same.
Each Sanitiser Holder design – the Retractor, Lanyard, and Clip – offer different ways to carry your hand sanitiser, hands-free! It includes a 45ml refillable bottle that is comfortable to carry around, but the elastic ring fits securely around any bottle, so you can get creative with the size and style of sanitiser bottle you carry.
The Idea
Our core mission has always been to help people better organise. When news of the COVID-19 pandemic emerged earlier this year, we knew we needed to adapt that mission to address the current crisis. We wanted to use our design skills and product development knowledge to help, but we weren't entirely sure how we would do that. One thing we were clear on though, was that amazingly designed Key Organisers are not an effective way to fight a pandemic! We knew one of the best ways we can all combat the virus is to wash our hands regularly with soap and water – and when soap and water are not available, to use hand sanitiser. 
When one of our awesome co-founders Rex (AKA Rextopher, AKA T-Rex, AKA Dad!) noticed people, including medical staff, struggling to carry and access their hand sanitiser, the idea for a portable, hands-free Sanitiser Holder was born! 
(Psst! Next week we'll be taking you behind the scenes and sharing just how we were able to design and manufacture a whole new product line in a month!)
Helping Where We Can
At the forefront of our minds during the design and planning phase of the Sanitiser Holder project were all the essential workers on the front line – pharmacists, nurses, supermarket staff, postal workers… the list goes on. As a company, we'd made the call early on to start working from home to keep our team and our community as safe as possible. We knew we were privileged to be able to do this, and we wanted to give back to those who are keeping us (and everyone else) safe.
The Orbitkey Helping Hands Initiative 
Once the design process for the range of Sanitiser Holders was underway, and the need to assist essential workers and those affected by the pandemic had become clear, we needed to figure out how to bring these two concepts together. The solution soon became apparent, in the form of the Orbitkey Helping Hands initiative. We are donating all the proceeds from the sale of Sanitiser Holders to help those affected by COVID-19, and donating as many Sanitiser Holders as possible to our essential workers.
From 12 May 2020, we've given away 500 Sanitiser Holders to essential workers across Australia, New Zealand and the United States. Additionally, customers can choose where the profits from their purchase will be donated, where 100% of the profits from the Sanitiser Holder product range will be donated to charities and organisations providing aid during the COVID-19 pandemic – Lifeline, safe steps, Meals On Wheels, Doctors Without Borders, Oxfam, Save The children, Unicef, CDC Foundation, and World Vision.
Want to Lend a Helping Hand?
If you have friends and family who you think might benefit from having a Sanitiser Holder, we'd love for you to spread the word! Or you could even lend a helping hand by ordering some for them. All profits will be donated to charities and organisations battling COVID-19, so you know you'll be helping others in need as well.
With your help and through the Orbitkey Helping Hands initiative, we hope our Sanitiser Holders can help as many people as possible. 
So please stay safe, and always lend a helping hand where you can. 
#OrbitkeyHelpingHands