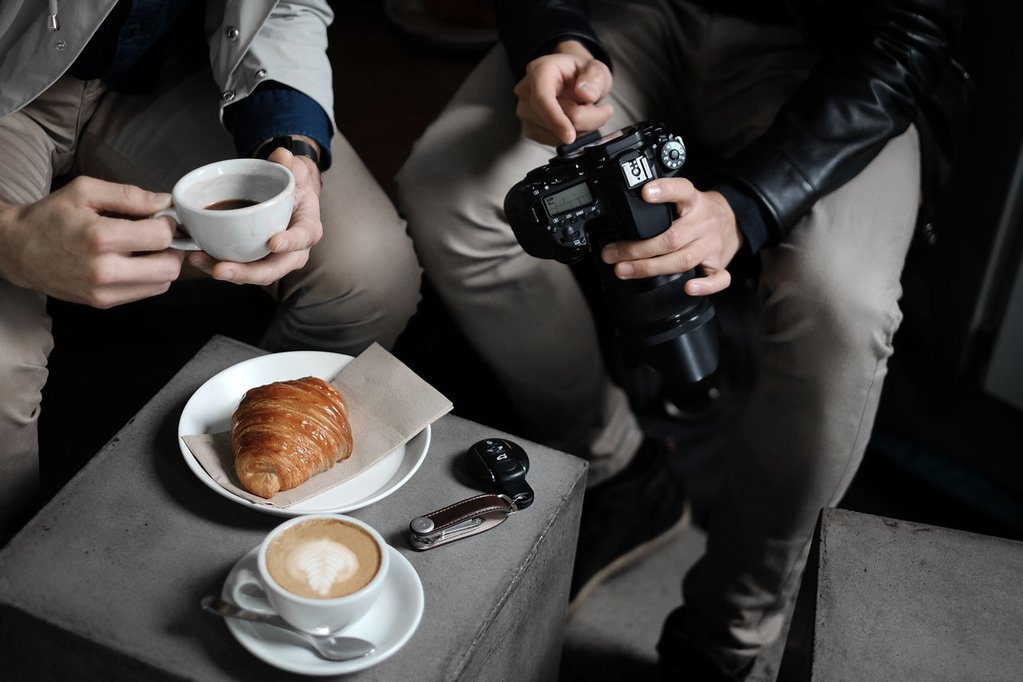 In the studio, if we're not sitting at our desks, you'll definitely find us loitering around the overworked espresso machine, waiting for another dose of coffee to infiltrate our already-caffeinated bloodstream.
As coffee lovers, we can always appreciate a great cuppa and with the launch of the latest Espresso Orbitkey, we thought this would be the perfect time to share some handy facts about something we are passionate about. [We're also running a fun competition - more info at the bottom of this post]
As the topic of coffee is so broad, we've been picking our brains over about what we should share with you too. After reading 'The Speciality Coffee Book' by Smudge Publishing, what stood out to us the most was the extensive range of coffees available and the specific elements necessary to make each coffee its own individual - how one tiny adjustment can transform it into another type of coffee drink altogether. We've shortlisted 5 of them here:
***
Espresso
Also called a 'short black'. The name comes from the process of expressing the coffee extract from the bean. A single shot of pure coffee.
Ristretto
Italian word for 'restricted' or 'shortened' as the extraction time compared to a standard Espresso is halved. This means the flavour is more rich and concentrated as it uses less water, but the same amount of coffee (30ml).
Long Black
One shot of espresso (30ml) of coffee blended with half a cup of hot water.
Short Macchiato
Macchiato means 'marked' or 'stained' in Italian. A Short Macchiato is a single shot of espresso (30ml) that is stained with just enough steamed milk to change the colour of the coffee. 

This one is perfect for those who want to enjoy the taste of coffee, without the bitter edge. If you want an extra kick, why not try a Long Macchiato? Same process as the Short, but with an extra shot of espresso.
Piccolo Latte
Italian word for 'small'. A single espresso shot (30ml) in a 90ml glass that is filled with a small amount of steamed milk in the same fashion as a Latte. Using less milk means the Piccolo is not as overpowering or filling, but you can still taste the coffee flavour throughout.
Magic
Well, this one isn't actually listed in the book but we thought it's an interesting one to add to the mix. Originated from the Melbourne coffee culture, the Magic is a super-concentrated double Ristretto topped up with steamed milk; creating the perfect ratio of coffee and milk.
We spoke to the manager of Vertue Coffee Roasters located in Carlton, Melbourne, and he believes that anybody would enjoy this, as it helps them experience the unique flavour that results from the combination of the different coffees - "It accentuates the different flavour profiles!"
***
Maybe you have tried these before, but maybe you haven't. Why not give these a shot the next time you're at your local coffee joint? We'd love to hear what you think.
Is coffee part of your daily grind? Win the 'Coffee on the go' Kit!
Featuring reusable coffee cup Keep Cup Brew and The Specialty Coffee Book.
How?
Take a photo of your coffee routine -or- just repost this photo. In the post, tell us about your profession/passion and how coffee fits into your everyday lives.

Remember to include @orbitkey #coffeewithorbitkey so we can see your post.

Follow @orbitkey and we'll announce the lucky winners on 20th June 2017.
Entries will be picked 18th June 2017 AEST.
The prize
1st winner: Espresso Orbitkey, Keep Cup Brew M and The Specialty Coffee Book
2nd and 3rd winner: Espresso Orbitkey, Keep Cup Brew Medium
Reference:
George, J. Jenkins, E. (2014).The Specialty Coffee Book: Victoria. Melbourne, Victoria: Smudge Publishing.
[PRIZE ANNOUNCEMENT]
Thank you all for participating in this competition - we really enjoy learning about how coffee plays a part in your lives. Although there was a lot of very creative entries, we could only pick three winners. Congratulations to:
1st Prize - @this_is_your_brain_on_bacon 
2nd + 3rd Prize - @charissanaran and @chrismarshphotography