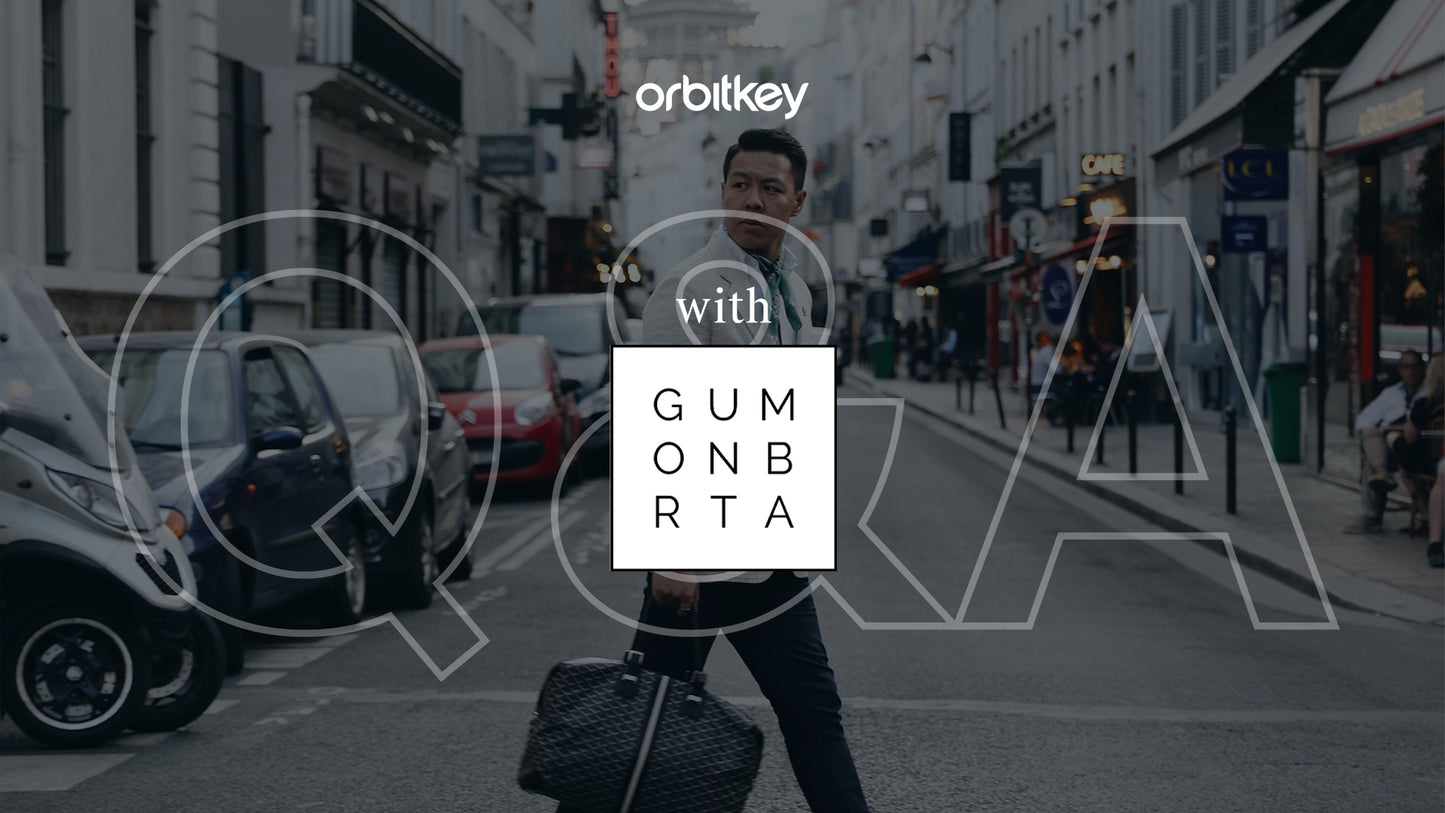 Wondering how to best make use of your workspace or set up your tools to streamline your workflow? Lex shares with us effective strategies to keep your workspace tidy, tips on lighting, where he seeks inspiration, and more. 
For this Q&A session, we've invited Lex Mak aka @mrgumbatron to answer all your questions about workspace organisation. Formally trained as an architect, Lex is the founder of MR. GUMBATRON™ – established in 2014 with the vision of inspiring others through his architecture and style cues. Lex is responsible for the designs of many cafes and restaurants in Australia and across Asia. He seeks to inspire others to put their best foot forward in life, and is ready to answer your questions to help you do just that!
1. What would you say are must-haves in a workspace?

Old school analog tools; whether it's a nice fountain pen, a quality fine liner, mechanical pencil or a nice vintage wooden ruler. Perhaps my profession as an architect influences this but I believe placing one of these objects on your desk can act as a pleasant reminder of the romance that comes from an analog style of work.
2. How do you keep your workspace tidy?

Discipline and Habit.
As I tend to consciously gravitate to beautiful and well-designed objects, I consider my desk/workspace as a blank canvas; a canvas for these beautiful objects to be displayed as well as a canvas for the work I create on it as a designer. Therefore my workspace is always clean & minimal; this is 'tidy' in my vocabulary.
3. Could you show us what your desk looks like after you've been using it for a while? 
4. After working from home for a month, stuff starts piling up on my desk. How often do you clear yours?


I have a habit of clearing my desk at the end of my work session. As soon as I finish my task/s I will pack it all up and clear the tools and materials I used. Normally I schedule up my work sessions into two periods, so this means my desk is packed up and reset on average twice a day.
5. Is there anything you can recommend for effective workspace storage?


I am a strong advocate of "less is more", so my approach to storage is to hide everything in a drawer next to your desk rather than on your desk. File all loose papers in a sleeve or folder and label them for easy reference. Tip: Japanese lifestyle store Muji has many inspiring storage and organization products you never knew you needed.

6. What's the ONE piece of advice you would give in regards to workspace organisation?


A clean and clutter-free workspace constructs a clear and clutter-free mind. Minimise the clutter on your workspace as they form visual distractions to us. My advice is always to keep your workspace tidy and free from clutter. 
7. Would you recommend having a dedicated space at home to work or mix it up each day?


Pedagogy and the way we as humans work is constantly evolving, I have recently gravitated to a more organic and mobile approach to my workflow. During the day I may work between different co-working spaces, hotel lounges and often cafes. For home, I prefer one dedicated space that serves the utilitarian function of getting work done, although you might sometimes find me on my sofa sketching away on my ipad late into the night. I'm a night owl and a workaholic.
8. How should I light my working space?


Where you can, always try to position your desk to maximise natural daylighting. In the Southern Hemisphere (Australia), it's advantageous to have your living spaces facing North or North-East as this aspect will receive the most hours of sunlight during the day. Keep this in mind when setting up your workspace or better still when you design your dream home.
9. Natural light or artificial light?


Both; Good natural lighting is always preferred and advantageous to minimise our environmental impact as human beings. But the sun only supplies workable lighting conditions during certain hours of the day depending on where you are. A quality table lamp (preferably LED) or better still a task light is a great investment. I use a Dyson CSYS™ task light.

10. Where do you go to for inspiration for spaces and interiors?


I do a lot of reading so I am always surrounded by great literature on architecture and design. I frequently consume Design blogs (Dezeen, Yellowtrace, Retail Design Blog & The Cool Hunter) as well as lifestyle magazines (Monocle & Hey Gents in particular). Also, Instagram analytics tells me that I spend on average about 45-60 mins per day browsing design & interior related posts amongst other interests.



11. Recommendation for good posters to put in a working space?


This is completely based on personal preference; I believe a poster/print is a great medium to display your interest or character; of course it should complement the interior.
I have a B&W photograph of The Solomon R Guggenheim Museum by Frank Lloyd Wright on my wall. It was a print I picked up on my first visit to NYC outside the museum from a shady looking street-side vendor rather than from the gift shop. The building is aspirational and personal to me; It's a daily reminder that my legacy can also be timeless and memorable one day.
Our Q&A session is a fortnightly initiative, where we collaborate with some of our favourite creatives to share engaging content that we hope will inspire you. 
Follow us on Instagram
@orbitkey
to stay up to date with new announcements and to submit your questions for our next Q&A.
 If you would like to see more, stay up to date by subscribing to our newsletter below.