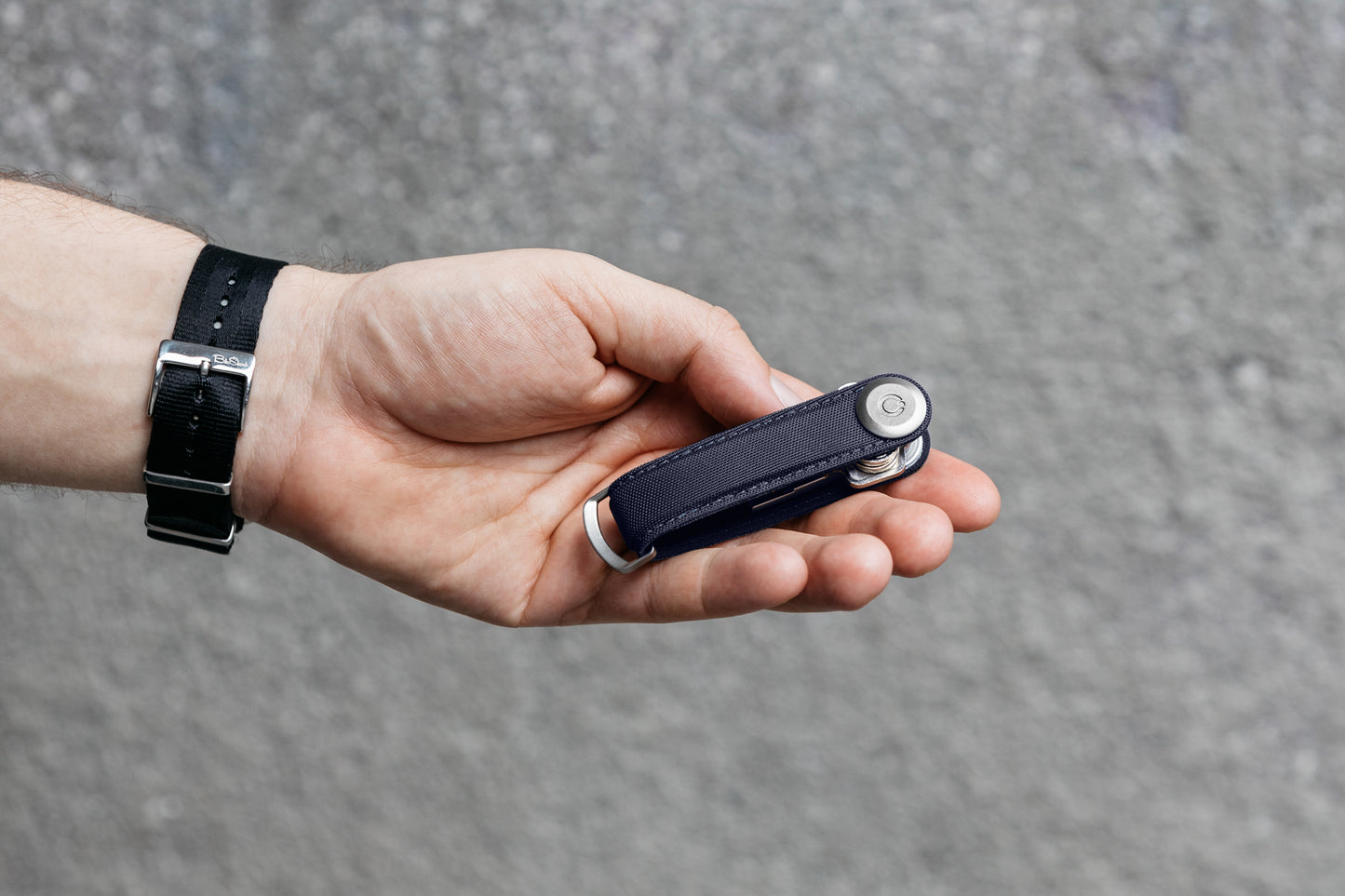 Car keys. House keys. Building keys. Office keys. Bike keys. Mailbox keys. The list keeps going on.
If you're reading this, there's a pretty high chance you've experienced handling a ruckus of jingling keys at least once in your life. We're active people and our lives are always busy.  In order to keep our daily struggles to a minimum, we should plan our tools so we can best prepare ourselves for our daily commute - or journeys ahead.
For us who prefer a planned approach, you can start now by organising your keys in a ready-to-access and planned order before working on the bigger projects.
Our Advice? Only keep your daily or weekly keys on your Key Organiser. There's no need to carry everything with you all the time. We have our house keys first (which is easy to access with one hand), followed by our office/building keys, and a handy accessory to finish the slim stack. Figure out what you need and keep things easy. Simple is better.
How we carry our keys
---
Gideon - Friend of Orbitkey

Key Organiser of Choice — Nylon,  Deep Navy
House Key

Family House key

Work Key

USB
D-Ring - Free!


 

"The Nylon Key Organiser suits my needs perfectly.  It's lightweight and stores my keys quietly. I own a few keys and occasionally need a USB on hand for work - pretty happy to have a classy solution to hold it all."
Martin - Content Manager
Key Organiser of Choice — Active - Black & Black Hardware
    House key

    2

nd

House key

    Office key

    Multi-tool accessory
D-Ring - Free!
"I like keeping my belongings as slim as possible. The Active Key Organiser looks great when I'm dressed up and holds really well for daily use. I've paired the multi-tool with my 3 main keys for added utility. The bottle opener function on my multi-tool has been a favourite at wedding parties and the box cutter feature is always useful for new packages."
Hans - Brand & Marketing Manager
Key Organiser of Choice — Limited Edition - Transparent
House key

Office key

Mailbox Key

Travel Kit

Nail File / Mirror
D-Ring - Orbitkey Ring, Car Key
"Simple is better. My Key Organiser has all I need to get through the day. It holds my main three keys to get home, the Travel Kit is great for swapping SIM cards while travelling, and the Nail File / Mirror helps me in a pinch. I love having the Orbitkey Ring attached to my car key because it makes it easy to pass the car key to my wife when she needs it."
Vivienne - Community & Public Relations
Key Organiser of Choice — Leather - Cognac
House key
Apartment Key
Building key
Office Key
USB
Travel Kit
Multi-tool
Nail File / Mirror
Extension Post
D-Ring -
Orbitkey Ring, Apartment tag, gym tag.
"My apartment requires a lot of keys to get around, so I need something strong enough to accomodate all my keys and accessories. I've expanded my Leather Key Organiser with the Extension post. Everything fits perfectly in my handbag and backpack."

 


Three simple steps for getting started.


Declutter

- Look for any keys you haven't used for a few months… or keys you don't remember what they're for. It might be time to take them off your stack or keep them somewhere safe for later.
Organise - Now your keys are minimised, place your primary used key first, followed by your other house key, mailbox keys, and then work keys.


Diversify

- If your keys are ready, what other ways can make your every day easier? A few tools added can really come in handy.