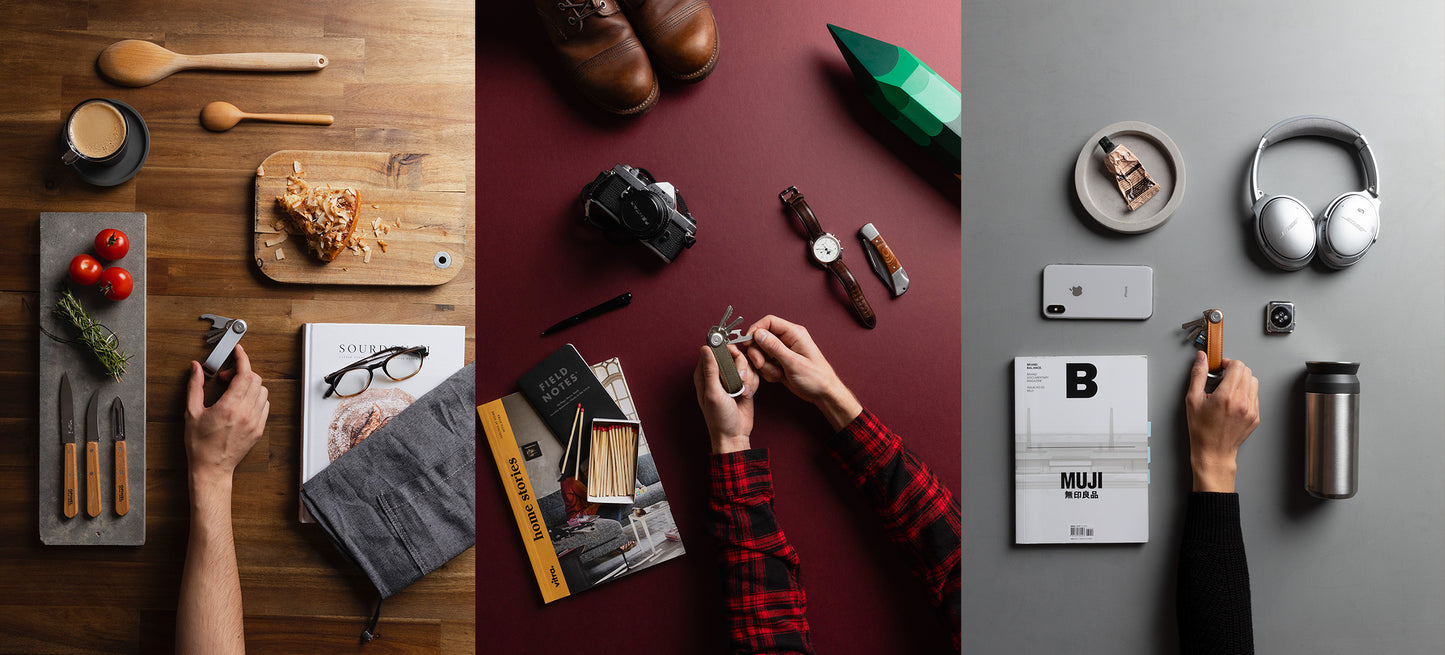 Father's Day is a time where we say thanks for the fun and guidance through the years, and enjoy a few laughs and smiles together.
Take a moment to think about what kind of person he is. Does he love grilling up a feast, or is he more of an explorer? Maybe he's a tinkerer and loves his gadgets. Whatever he enjoys, there's something out there perfect for him.
This year, we have curated our collection of organised goods into a Gift Guide to help you find the perfect gift for him.
---
For the man of detail
He admires quality and products which enhance his lifestyle.  This collection will complement his day-to-day; keeping his keys slim, data ready, and in a modern form factor.
1
The Leather Key Organiser
Our leather range embodies true elegance; with beauty that develops over time. A natural, full-grain cowhide leather, partnered with a stainless steel mechanism to hold a set of 2-7 keys securely.
*Personalise your gift with a monogram. You can have up to three characters added to any leather Key Organiser.
A quick and convenient USB drive in a slim profile which can be taken with you wherever you go.  Keep your data ready, always.
A great way to hang your keys and other items. The Strap features the same quick-release system featured on the Clip, allowing you to attach any Key Organiser to the D-ring. Including the Ring for a simple way of attaching larger car keys or lightweight cameras.
The Strap can be used by itself, but works even better together.
For those who explore.
Whether he's hiking through a rainforest or cycling through the city, this collection will provide him with the versatility and comfort he needs. Accessorised to get through the many adventures ahead.
A fine balance between style and function.  A Combination of tightly woven water-resistant canvas, coupled with leather for added durability. Creating a light-weight solution for organising your keys. Perfect to dress up or down.
The Multi-tool is a bottle opener, multi-size hex wrench, box cutter, flat-head screwdriver, and file.  Be prepared wherever you are with the everything-in-one.
A great gift for everyone. We've taken our Multi-tool worldwide without any issues travelling.
Why use a regular keyring anymore?  The Ring is our solution to endlessly prying open stubborn keyrings and hurting our fingers in the process.  Just pinch, twist, and rotate to slip your keys on and off easily.
Some of our friends prefer to use it by itself while others keep it attached to a Key Organiser, Clip, or Strap.  
For the everyday man.
Keep his keys silent and pockets safe. A durable and easy to access bundle that can hang from anywhere.  For all his weekly plans - work or play.
Made from a water-resistant TPU polymer, the Active is smooth to touch and durable.  Paired with the bottle opener accessory - it becomes an essential item at any barbeque and celebration. Keep it handy.
The drinking buddy you can always rely on and trust. Slim, smooth, and designed to save your pocket space some extra space.
We all know a few people who prefer to hang their keys out, rather than have them in their pockets. Attach the Orbitkey Clip to your bags or clothes; it's designed for convenience and speed. Partnering with the Key Organiser when attached using the quick-release clasp.
Explore our Bundles.