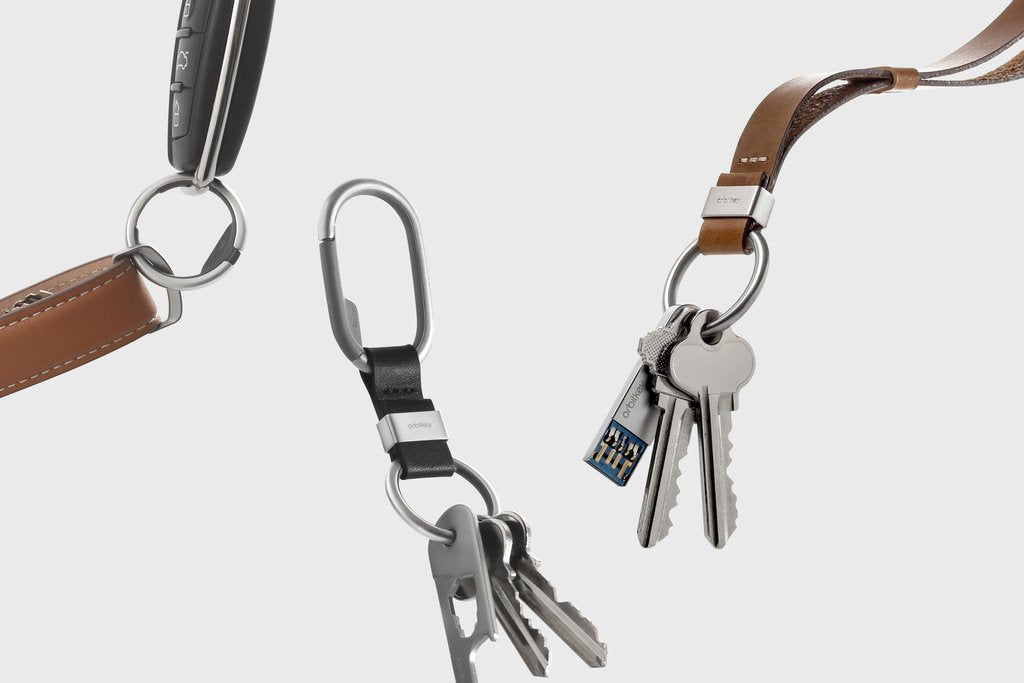 Designed and optimised with the user in mind, our team applied a combination of traditional craft and modern processes to step outside the conventional ways of constructing a ring, carabiner, and strap.
The result was a high strength stainless steel enclosure, full-grain leather, coupled with a flexible polymer core to give a balance of style, function, and durability.
After another successful crowdfunding campaign through Kickstarter and Indiegogo, we raised over $420,000 in funding for the project which shipped on time to our backers around the world. We're thrilled to launch the Ring, Clip, and Strap collection, and it's all thanks to our amazing community of backers, supporters, and friends.
---
The Goods. 
The Ring, Clip, and Strap are designed to be used independently but work even better together. Created with a twenty-first-century twist while maintaining it's feeling of craftsmanship. Simplify the management of your everyday essentials.
Ring. 
The conventional keyring has been completely redesigned to make attaching and detaching keys effortless.
Clip. 
An elegant and innovative solution to clip your belongings anywhere, accommodating for unique lifestyles and environments. Keep your gear close by, but out of the way.
Strap. 
A simple and elegant leather carry strap paired with an innovative quick-release clasp. Hang your keys and everyday items.
---
Swap your keys on the go. 
You no longer need to struggle with prying open keyrings anymore. We've created a new motion of accessing your keys. Simply pinch on each side, pull and rotate the tab until open, attach your keys and turn back into its original place. It's secure and ready to go.
Less bulk in your pocket. 
Make a new home for your keys on your belt loop, bag or anywhere you want to attach it. Clip it anywhere.
Do it your way. 
A quick and easy way to share your keys and accessories. Carry the essentials when you need to, or connect them all. For those who live active lives.
Thoughtfully designed.
Crafted to the finest details, leaving out unnecessary bulk and hinges. A smooth surface and opening designed for ease-of-use. We kept it light and strong.
Not just for your keys.
Small, but strong enough to hold ID Tags, flashlights, bottles, and more.
---