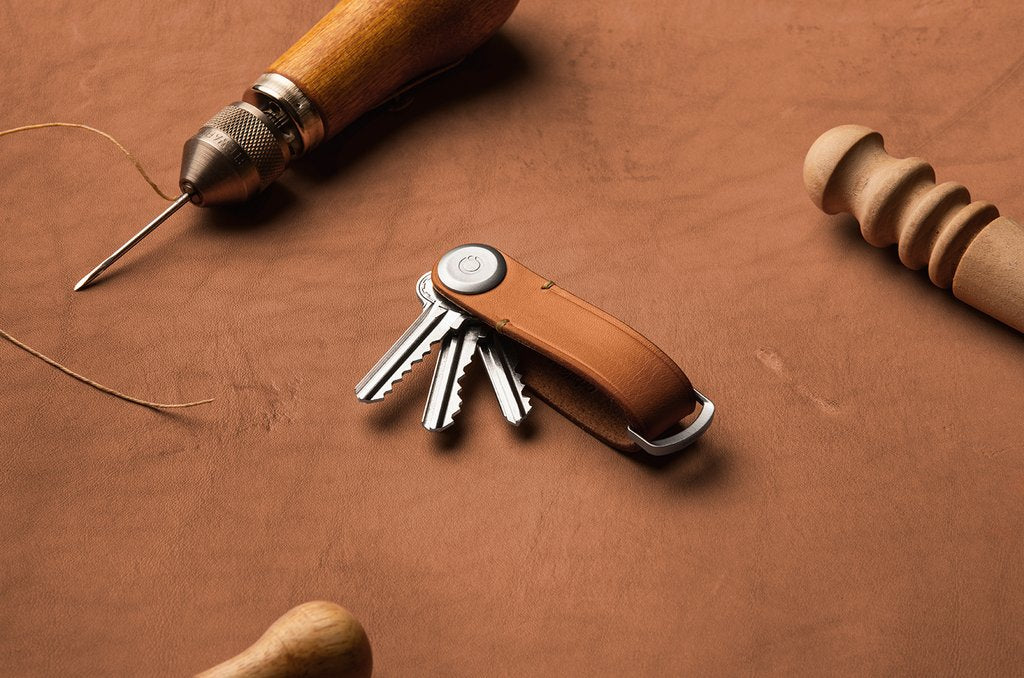 Orbitkey Studio Session is a series of collaborations with reputable brands, all of which share like-minded values. Combining our passion for design and curiosity, we aim to challenge our imagination like never before.
In this first collaboration, Orbitkey and VOYEJ aim to find the perfect balance between contemporary industrial design and traditional handcraftsmanship. Coming from an industrial design background, the focus has been on optimising our automated manufacturing process to produce consistent, high-quality parts.
On the contrary, with VOYEJ, their inspiration is drawn from their passion for journeys. The focus is on the traditional handmade process of crafting leather goods, which takes a considerable amount of time and skill to perfect. Not only do they embrace the characteristics and slight imperfections of natural vegetable-tanned leather, but they also promote it.
Despite these different approaches in manufacturing processes, there is a strong alignment in our values: we believe in functional, simple-yet-refined designs. This quickly became the foundation of our collaboration.
For a few months, we worked closely together, to dream up a limited edition Orbitkey. An Orbitkey that features their signature natural vegetable tanned leather, individually cut, burnished and stitched by hand in Yogyakarta, Indonesia – long known for its artistic heritage.
---
Choosing the leather.
Not everyone knows that the animal skin has to go through particular processes before it can be used as a material in leather goods. Tanning is a process that modifies the molecular structure of untreated skin – preventing it from hardening and decaying over time.
For this collaboration, we look into the use of vegetable-tanned leather. More specifically, Chahin Saddle Skirting Side from Mexico.
Vegetable-tanned leather means that the tanning process uses entirely organic material and it involves a lot more time and skill to get right, in comparison to chrome-tanning (a process widely used today). This type of leather is usually associated with tradition and craft.
Made entirely from natural material, the surface vegetable-tanned leather tends to be more susceptible to other substances that it has direct contact with. Whether it's the natural body oils that your body produces, water, moisture, conditioner, dirt, dust, sunlight or heat – the leather absorbs it all.
Similar to an individual's journey through life, it builds a patina through usage, becoming more beautiful and full of character over time. There's no wonder why VOYEJ – a brand inspired by passion of journeys – feature vegetable-tanned leather in all of its products.
---
Designing the classic yet progressive aesthetic.
VOYEJ's product range has the simple aesthetic with very little decorative elements, mostly through the stitching. We really wanted to retain that essence and let the unique characteristics of the natural vegetable-tanned leather shine. The minimal hand stitching detail further emphasises the handcraft element whilst creating a very unique aesthetic. Something that Orbitkey has never done before.
Paired with the high precision of Orbitkey metal components, the result is a perfect balance between contemporary industrial design and traditional handcraftsmanship.
---
Shop the Limited Edition Orbitkey x VOYEJ
SOLD OUT